The Prickly Pear (Opuntia ficus-indica)
The Prickly Pear (Opuntia ficus-indica)
…belongs to the plant genus from opuntias (Cacti). Ficus-indica means "Indian fig". Their usually prickly fruits called prickly pear and the young shoots are edible. She originates probably from Mexico – today we find her also around the Mediterranean and in Morocco. Greatly appreciated is the Prickly pear from the Moroccan area Tiznit and Rif-mountains.
The prickly pear grows shrubby or arboreal usually with a clearly trunk about 35 cm height. A prickly pear shrub or tree reaching a height between 1 and 6 meter and serves the rural population as demarcation of their landholding or as a privacy shield.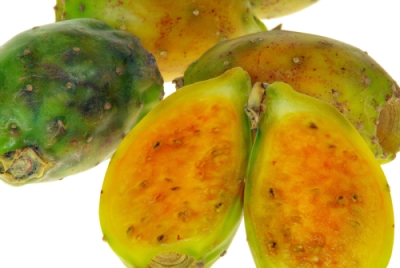 From the yellow or orange-red flowers which you can see in the spring the quiet different colored, oval to elongated fruits are formed – the prickly pears. We find them in various regions in different colors like beige, yellow and green as well as orange, red, purple to brown. The prickly pear is also known under the name Opuntia fig, Indian fig, Cactus pear or Cactus fruit. The yellow-orange to red pulp has a sweet-sour taste. It contains small oval seeds from which the coveted green-yellow colored prickly pear seed oil is pressed.
More about the valuable prickly pear seed oil you will find under Facts.